Aerial Yoga at Kirkharle
Fitness and fun with Judali Aerial Yoga. Discover new ways to play with gravity and enjoy this incredible feeling of freedom.
Book your hammock for our next
Sunday Session at Kirkharle
from 10am – 12noon
on Sunday 17th June
Suitable for complete beginners. No previous experience necessary.
Prior booking essential as places are limited.
Contact us to book your place.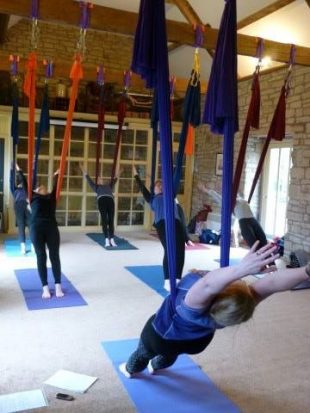 These sessions are held in the beautiful surroundings of Kirkharle Lake & Courtyard NE19 2PE. Centrally located just off the A68, 20mins from Rothbury, Morpeth, Newcastle, Hexham or the Scottish Borders. The studio is upstairs above the Coffee House in the centre of the courtyard, access is via the stairwell from the main entrance.
Judali Aerial Yoga sessions combine hatha yoga and aerial skills for an exciting and challenging aerial yoga experience.
Enjoy full-body aerial yoga workouts followed by deep relaxation, or floor-based restorative sessions offering a more restful stretch and rejuvenation.
Why not bring your own group and make a day of it? You can combine a 2 hour private aerial yoga session for your group, including half an hour of deep guided relaxation, with an afternoon mantra chanting session and/or a leisurely walk around the beautiful Kirkharle estate.
Delicious refreshments, snacks and meals are freshly made at Kirkharle's Coffee House, or feel free to bring your own picnic.
Take a short stroll around Kirkharle's Lake, or a longer walk through historic landscape designed by Capability Brown, with plenty of time to browse around the many shops and studios for a full day of fun with Judali Yoga at Kirkharle.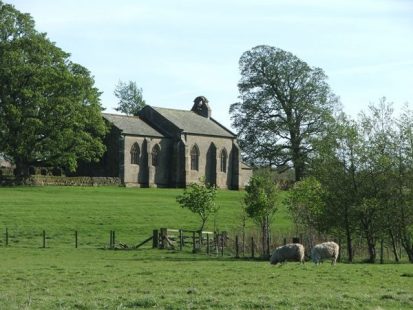 Book your next Judali Aerial Yoga session at Kirkharle by contacting us to arrange a time and date that suits you.
Enjoy Judali Yoga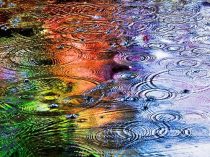 "You have traveled too fast over false ground;
Now your soul has come, to take you back.
Take refuge in your senses, open up
To all the small miracles you rushed through.
Become inclined to watch the way of rain
When it falls slow and free.
Imitate the habit of twilight,
Taking time to open the well of color
That fostered the brightness of day.
Draw alongside the silence of stone
Until its calmness can claim you."
John O'Donohue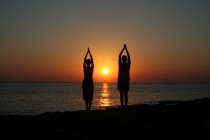 Om Suryaya Namaha Om and Salutations to the Sun.
Click on the lotus flower image below to download and listen to a free YOGA NIDRA guided relaxation.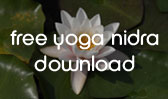 Caution: Listening to this download will relax you.
It should not be played in any situation that requires you to be alert, such as driving a vehicle, or operating machinery.
Click below to see a gentle GOOD MORNING SEQUENCE.
A simple series of stretches to start the day, with your awareness focussed on your breath.
Caution: Feet are parallel, knees are slightly bent not locked, spine remains straight. Move gently with the rhythm of your breath.
Repeat 3 – 5 times to begin with. Stop and rest when you need to.
Be good to yourself.
Be kind to yourself.
Be happy.