Privacy Policy
Judali Yoga Privacy Policy
Judali Yoga take your data privacy seriously. This privacy policy provides you with details of how Judali Yoga collect and process your personal data through your use of their website judaliyoga.com and from attending yoga session(s) with them.
What data do Judali Yoga hold about you?
We hold your name, contact details and any medical information you volunteer to share with us. These have been collected through yoga sessions you have attended with us, email or through our website. If you have attended sessions with us we will have a record of the amount of money you have paid, dates and your yoga class attendance.
Why do Judali Yoga hold and store this information?
We hold this data to help process updates relating to the yoga services we provide and to comply with HMRC Tax requirements.
How do Judali Yoga collect your data?
We collect your name, contact details and any medical information you volunteer to share with us on our class registration form, or you provide it directly to us, face to face or online via other media (i.e. email)
We add your details to our Outlook and Mailchimp contact lists – email processing tools which comply with world-wide Data Privacy laws, including GDPR (General Data Protection Regulations) – and to attendance tracking spread-sheets with your permission/consent.
How do Judali Yoga store your data?
We store your data in Outlook and MailChimp We also store it in our spread-sheets for monitoring purposes of attendance at classes and for ease of reference if we need to send update emails about yoga.
Ways Judali Yoga may use your data
To send you ad-hoc email updates from Judali Yoga. These may come from Mailchimp or directly from us, depending on the subject of the email and will be related to yoga based services or updates.
To keep you up to date with changes connected with Judali Yoga classes and events.
To share yoga related news that may be relevant or of interest.
We may also invite you to opt in to our Facebook page and Judali Yoga groups.
We do not share your data with any other parties or third parties, unless your express consent has been given, for example when a yoga session is in collaboration with another practitioner.
To help calculate revenue and class statistics for tax and monitoring purposes.
How you can update your data
You can update your personal details by contacting us (info@judaliyoga.com).
How you can delete your data
You can completely delete your data at any time, either by using the unsubscribe link in emails sent from Mailchimp or by contacting us directly.
Security of data
Data we keep is stored with established reputable and GDPR compliant organisations/ providers. Our spread-sheets are backed up and password protected.
Data retention
We will only retain your personal data for as long as necessary to fulfil the purposes we collected it for, including for the purposes of satisfying any legal, accounting, or reporting requirements.
Cookies
You can set your browser to refuse all or some browser cookies, or to alert you when websites set or access cookies. If you disable or refuse cookies, please note that some parts of our website may become inaccessible or not function properly.
Visitors to this website
When someone visits judaliyoga.com we use a third party service to collect standard internet log information and details of visitor behaviour patterns. We do this to find out things such as the number of visitors to the various parts of the site. This information is only processed in a way which does not identify anyone. We do not make, and do not allow them to make, any attempt to find out the identities of those visiting our website. If we do want to collect personally identifiable information through our website, we will be up front about this. We will make it clear when we collect personal information and will explain what we intend to do with it.
Access to collected information
You have the right to request a copy of personal data that we keep about you, to have any inaccurate information about you corrected, to have your data deleted or to ask us to stop using your data. If you wish to make such a request or you are concerned that any of the information we possess about you is incorrect, please contact us at info@judaliyoga.com. If you are still not satisfied, you are entitled to report your concern to the ICO.
Contacting us
If you have questions, comments or complaints about the handling, processing or protection of your personal data, please contact Judali Yoga (info@judaliyoga.com). You also have the right to direct your complaint to the ICO.
Changes to this policy
Judali Yoga keeps this Privacy Policy under review and may modify or amend it from time to time at our discretion. If they make changes, the revised Privacy Policy will apply to you and your information from that date.
Enjoy Judali Yoga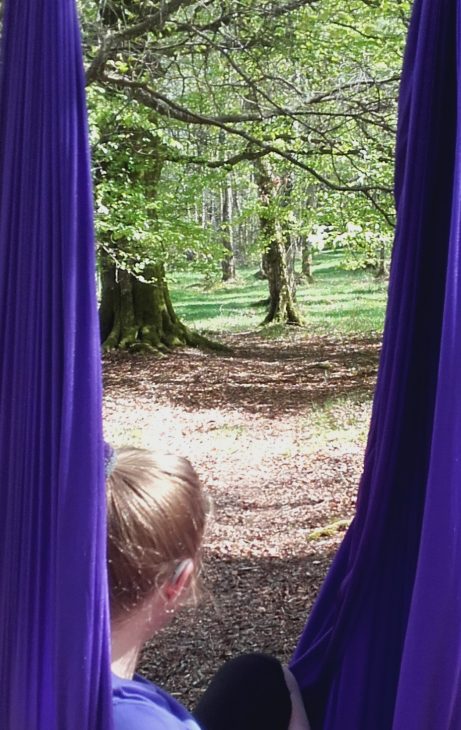 "One day I sat in the woods, which I found to be stunningly different than walking 'through' the woods.
And in the sitting, the woods jumped to life with a spirited activity that I had scarcely ever seen or known to exist.
And as I sat there turning this way and that in order to draw it all in, I thought that it was not the woods coming alive.
Rather, it was me coming to a halt."
Craig D. Lounsbrough
Click on the lotus flower image below to download and listen to a free YOGA NIDRA guided relaxation.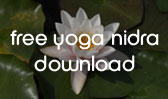 Caution: Listening to this download will relax you.
It should not be played in any situation that requires you to be alert, such as driving a vehicle, or operating machinery.
Click below to see a gentle GOOD MORNING SEQUENCE.
A simple series of stretches to start the day, with your awareness focussed on your breath.
Caution: Feet are parallel, knees are slightly bent not locked, spine remains straight. Move gently with the rhythm of your breath.
Repeat 3 – 5 times to begin with. Stop and rest when you need to.
Be good to yourself
Be kind to yourself
Be happy