Chant Mantra Now
Ready to get started? Sit upright with the spine erect (support yourself with cushions or yoga blocks under your tail-bone to make this easier), relax and remain seated in a comfortably dignified position, hands resting on the knees or on your lap. Breathe gently and settle yourself before you begin.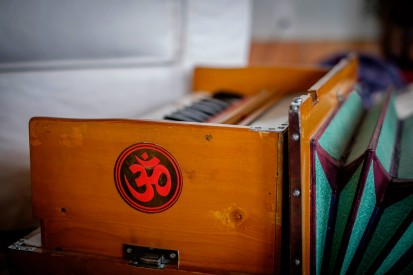 First a simple silent mantra to start you working with the breath..
So Ham
Repeat 'SOH – HUM' to yourself.
'SOH' on the in-breath. 'HUM' on the out-breath.
Another simple mantra to try out loud this time..
Aum (OM)
Take a deep breath in and say 'AAH-OOO-MMM' for the length of your out-breath.
Breathe in silently and repeat.
This one expresses respect and salutations to the sun..
Om Suryaya Namaha
Breathing in the same way repeat 'OM SOOR-YAH-YAH NAH-MAH-HAH'.
A mantra especially good at sunrise and sunset.
Here are a few other popular mantras to try..
Om Gan Ganapatayei Namaha
Repeat 'OM GAN GAH-NAH-PAH-TAH-YEI NAH-MAH-HAH'.
A mantra for new beginnings and the removal of obstacles.
Om Namaha Shivaya
Repeat 'OM NAH-MAH-HA SHEE-VAH-YAH'.
A mantra for striving towards perfection.
Om Dum Durga Durgayei Namaha
Repeat 'OM DOOM DOOR-GAH DOOR-GAH-YEI NAH-MAH-HAH'.
A mantra for protection when you need it.
Om Sri Shanesh Warayah Swaha
Repeat 'OM SHREE SHAH-NESH WAH-RAH-YAH SWAH-HAH'.
A mantra for learning lessons and moving on.
Om Shrim Maha Lakshmiyei Swaha
Repeat 'OM SHREEM MAH-HAH LAKSH-MEE-YEI SWAH-HAH'.
A mantra for generating abundance of all kinds.
Om Tryumbakam Yajamahe
Sugandhim Pushti Vardhanam
Urvarukamiva Bandhanan
Mrityor Mukshiya Mamritat
Repeat 'OM TRY-UM-BAH-KUM YAH-JAHM-MAH-HEY,
SOO-GAHN-DIM POOSH-TEE VAHR-DAH-NAHM,
OOR-VAHR-OO-KAMEE-VAH-BAHN-DAH-NAHN,
MRIT-YOR MOOK-SHEE-YAH MAHM-REE-TAHT'.
The Markandeya or Maha Mrityunjaya Mantra, the 'Great Mantra' for cultivating the healing power within.
A mantra for all journeys, including the final one.
For more information about mantra and kirtan contact us.
Enjoy Judali Yoga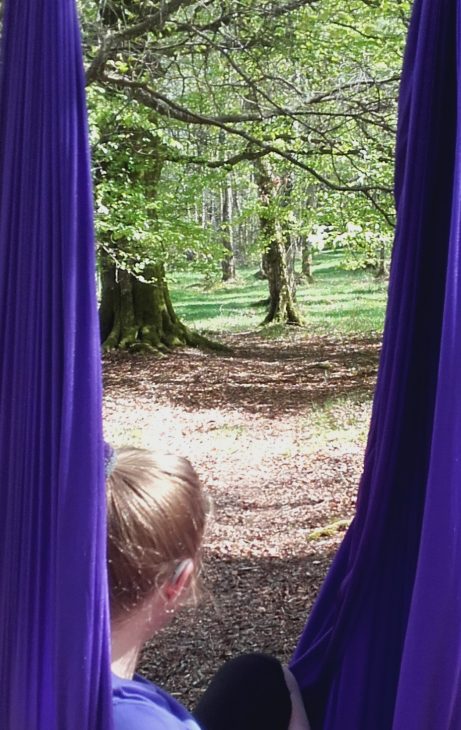 "One day I sat in the woods, which I found to be stunningly different than walking 'through' the woods.
And in the sitting, the woods jumped to life with a spirited activity that I had scarcely ever seen or known to exist.
And as I sat there turning this way and that in order to draw it all in, I thought that it was not the woods coming alive.
Rather, it was me coming to a halt."
Craig D. Lounsbrough
Click on the lotus flower image below to download and listen to a free YOGA NIDRA guided relaxation.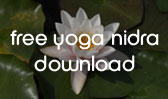 Caution: Listening to this download will relax you.
It should not be played in any situation that requires you to be alert, such as driving a vehicle, or operating machinery.
Click below to see a gentle GOOD MORNING SEQUENCE.
A simple series of stretches to start the day, with your awareness focussed on your breath.
Caution: Feet are parallel, knees are slightly bent not locked, spine remains straight. Move gently with the rhythm of your breath.
Repeat 3 – 5 times to begin with. Stop and rest when you need to.
Be good to yourself
Be kind to yourself
Be happy