Reviews from the Hammock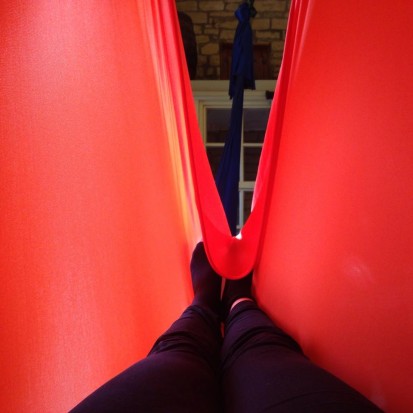 "Great fun!! If anyone has been a bit nervous to try…just do it!!! All fitness levels can do it thanks to the great instructions and guidance of Judie xxx"
Anna Ridley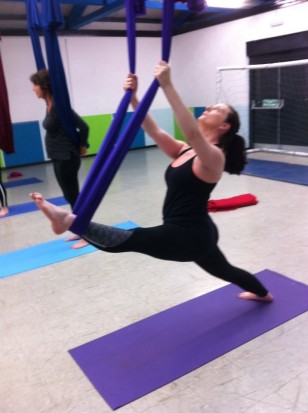 "I had a fab time Judie Freeman and will definitely do it again. Felt so relaxed last night and today, it was just what I needed. Thank u x"
Deborah Stewart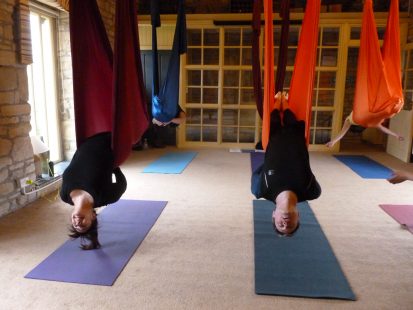 "I just have to say thank you for a fantastic experience Judie Freeman.
I was the kid in P.E. who could never reach the beam, or climb a rope. I did a bit of tree-scrambling, but never thought of myself as being able to achieve such a sense of childlike physicality again, and it happened in such a safe and nurturing environment.
Dont get me wrong, its not an out-of-control, kids in the park experience by any means, Judie's precise instruction and demonstration really gave me the confidence to try out postures and to let go and relax, letting process do the work. I worked too, we explored yoga postures so each one was approached from a new direction, or the effort was directed differently, because of the position facilitated by the hammock.
I have to say, I also enjoyed the relaxation, being suspended in a cocoon of colour, my body surrendered to the relaxation because, I think, I could sense where I was still holding tension. There was no contact with a hard surface, and a new situation for me to reassess my body position.
What a turnaround day, I had been upside down with stress, and ended up being upside down in joy! The sense of letting-go in aerial yoga is a far cry from feeling out-of-control. Its extraordinary, how suspending and tipping the body alters ones perceptions of the outside world. The head (and so, the mind) are repositioned and maybe by doing it physically allows other kinds of thinking, more helpful ways of seeing things, to come into focus.
Don't doubt it, if you even have a vague inkling to try this, DO IT!!! Judie will facilitate any body to enjoy the experience at a level that is comfortable to them. Go hang out with Judie, aerial yoga rocks!!! (well, just a little bit, in a swing-seat kind of way!) Gushing ends XXXXXX"
Sarah Riseborough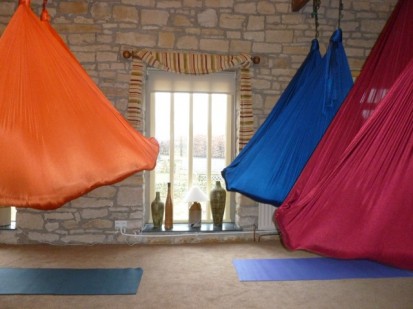 "There ain't no savasana like an aerial yoga savasana!"

Trudy Morrison
Enjoy Judali Yoga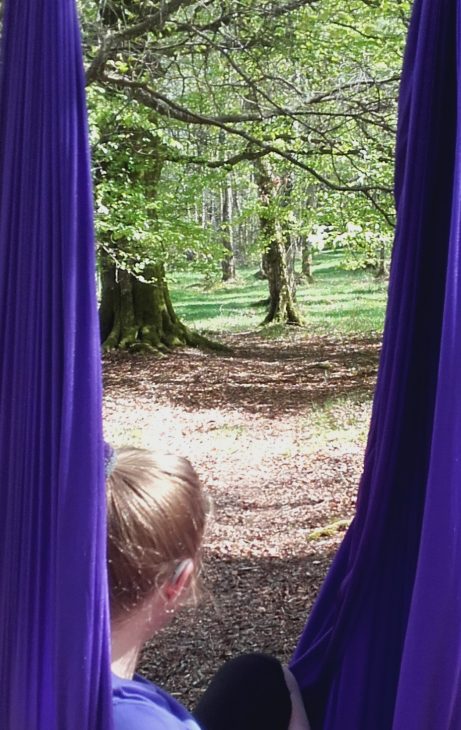 "One day I sat in the woods, which I found to be stunningly different than walking 'through' the woods.
And in the sitting, the woods jumped to life with a spirited activity that I had scarcely ever seen or known to exist.
And as I sat there turning this way and that in order to draw it all in, I thought that it was not the woods coming alive.
Rather, it was me coming to a halt."
Craig D. Lounsbrough
Click on the lotus flower image below to download and listen to a free YOGA NIDRA guided relaxation.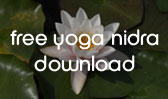 Caution: Listening to this download will relax you.
It should not be played in any situation that requires you to be alert, such as driving a vehicle, or operating machinery.
Click below to see a gentle GOOD MORNING SEQUENCE.
A simple series of stretches to start the day, with your awareness focussed on your breath.
Caution: Feet are parallel, knees are slightly bent not locked, spine remains straight. Move gently with the rhythm of your breath.
Repeat 3 – 5 times to begin with. Stop and rest when you need to.
Be good to yourself
Be kind to yourself
Be happy